Two Day Jeep Tour: Hike & Scrambling Al Hash Mountain
All our tours start from Wadi Rum Rest House (Google location here) in Wadi Rum village which is located about 7 km from Visitor Center. Feras will be welcoming you, offer you some traditional Bedouin tea and explain to you everything about the places we are going to visit. The tour includes the following:
DAY 1
We will visit these sites by jeep:
Lawrence's Springs
Al Ramal Red Sand Dune
Khazili Canyon
Little Rock Bridge
Lawrence's House
Stop for lunch (Gallaya, Hummus, Tuna, Salad, Jordanian bread, Juice)
Mushroom Rock
Burdah Rock Bridge
Walking through Abu Khashaba Canyon
Umm Fruth Rock Bridge
Sunset view from the White Desert
Overnight in cave or camp & dinner (Mashawi dish in the zarb, Salad, Jordanian bread, Tea, Sweets)
After a long day in the desert, you will sleep in our traditional Bedouin Cave or Camp. We will light up a warm fire, offer you some Bedouin tea and prepare dinner. We will provide you mattresses,  warm blankets & pillows, as nights in the desert are cold, no matter the season. Usually every night we gather all together, play Bedouin music and tell stories about Wadi Rum desert and Bedouin culture. If you wish, you can go for a night-time walk in the desert with our guidance.
DAY 2
From the Wadi Rum Bedouin Cave or Camp, we will drive to Al Hash mountain where we will have 5 hours for hiking and crossing the mountain. Your hiking and scrambling guide will be with you. No equipment necessary. The route is very exciting and includes some amazing views. We will start scrambling from the eastern side of the mountain and cross the valley to reach the top in 1.700 meters above sea level. When we get down we will have lunch and Bedouin tea to refresh and rest. Finally, we will be headed to the  Burdah Rock Bridge and enjoy the sunset.
You will spend the second night in our Bedouin Cave or Camp and have dinner there (see Day 1 food arrangements). Next day we will take you back to the Rest House in Wadi Rum village. We can help you find quality transport "to" and "from" Wadi Rum (taxi, bus, car rental, etc.- it's up to you).
Add Camel Ride to your tour for

ONLY
15 JD/person/hour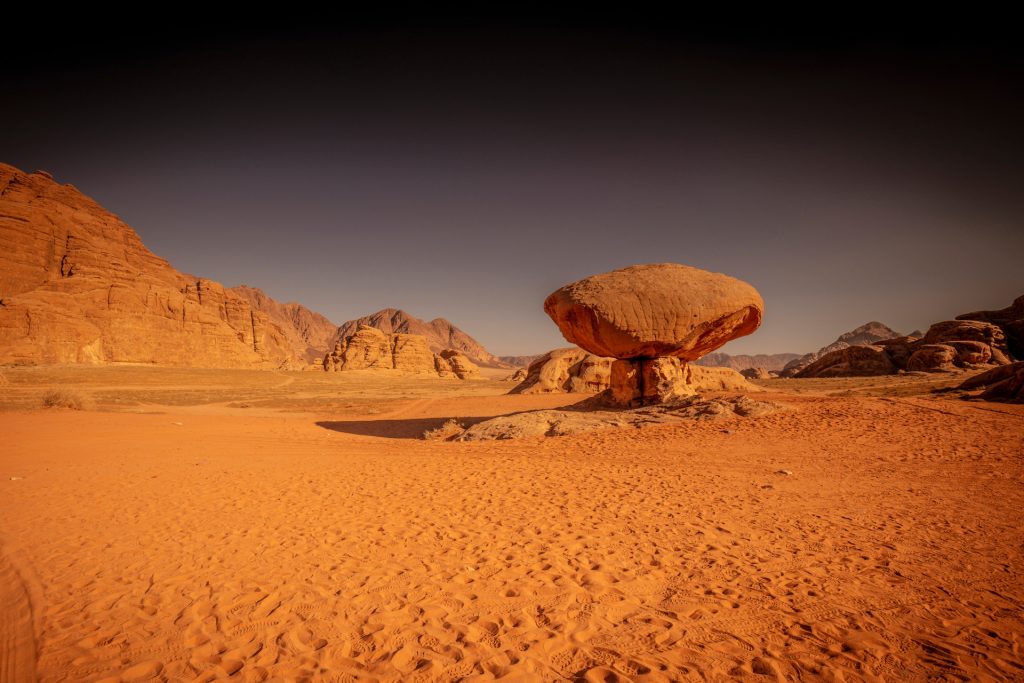 After the arrival at Wadi Rum Visitor Center, pay the entrance fee (5JD) and inform the desk you already have a booking with "Wadi Rum Bedouin Guide" – Feras Zalabia. Do not trust people who are not able to present you with an ID.
We love what we do and we will share it with you.